Re: Handicraft afternoon
Posted by Guscha on 2015/5/19 22:52:07
Finally the thoughts and desires of the engineers focused on the Dodge WC-51.
This vehicle, half truck and half car with a load capacity of 0.75 ton was available in Russia in a large quantity.
It marched through the mud like a water buffalo (below a six-wheeler with tire chains in Okinawa).
It was utilized very broadly for many purposes in all branches of the U.S. military through World War II (and the Korean War). The Russian inventiveness had been in no way inferior, here an ambulance.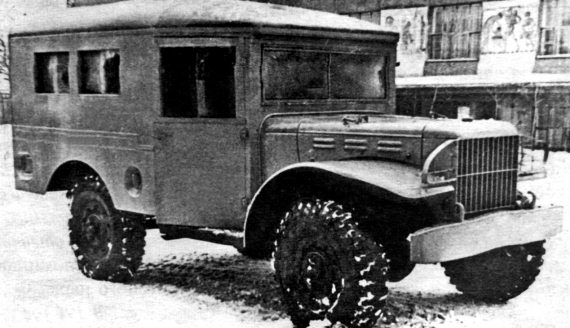 Out of such conversions the plan arose to combine the cross-country mobility of a Dodge with the comforts of a ZIS.
sources
pic #1 - us-militaria.com
pic #2 - olive-drab.com
pic #3 - deviantart.net
pic #4 - plam.ru
This Post was from: https://packardinfo.com/xoops/html/modules/newbb/viewtopic.php?post_id=162050